The Best Sweet 16 Cake Ideas to Help You Celebrate Your Birthday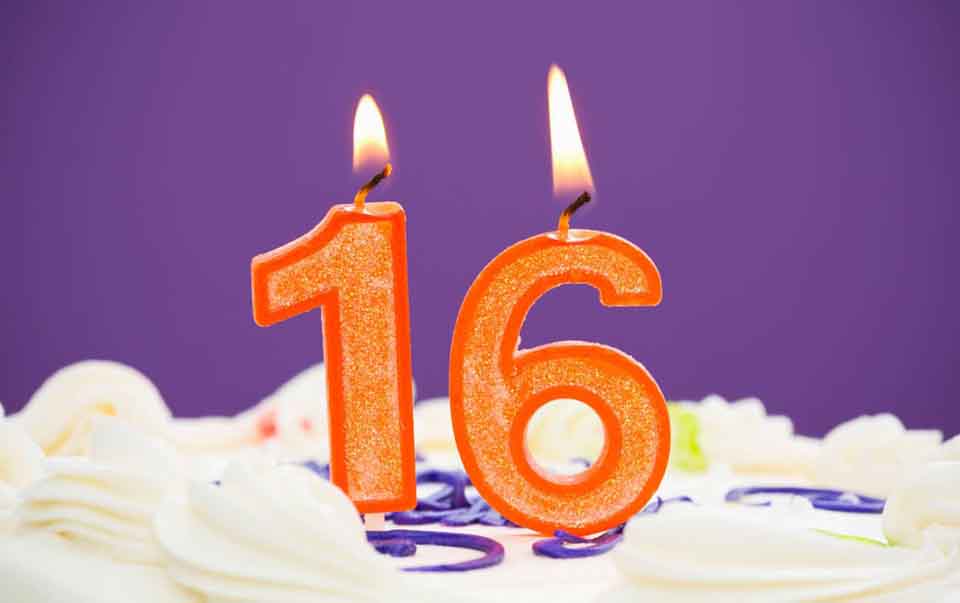 The Sweet 16 birthday is significant in a girl's life. It's when they are starting to become adults and have more choices; becoming a woman can mark the end of their childhood and becoming adults. They learn to drive and start to date. They start looking at their future and find their passion and where they want their life to go. They begin to mature, grow, and learn to be alone in the world. They have more responsibilities but more privileges as well.
This can also be a tough time for a girl. They have so many things to figure out that it can be overwhelming. They may get upset or start to lash out at their parents. This is all part of learning to grow up and take accountability for their actions.
With all the things a girl must deal with at 16. Why not throw her a big bash and celebrate her special birthday? They may have much to handle, but they will always remember their Sweet 16 celebration. All girls remember the moment they turned sixteen.
Here are a few tips for throwing the best birthday bash for the special girl on their special day.
Pick a theme!
Implement something the birthday girl likes. A sports theme or music or a Mardi Gras. A popular pick for a sweet sixteen would be a Hawaiian theme. Those are always a hit.
Go Shopping!
This is the most fun part of the whole planning process. Go to a party store and purchase all the merchandise you can find to fit the theme. Places like Party City or Walmart are good places to look.
Shop for a present!
Some good ideas for a sweet 16 gift would be a car, some money, a new wardrobe, a beautiful new diamond necklace, and, let's not forget, shoes. All 16-year-olds love their shoes.
Pick a time and date!
A tip I have is to make sure you choose a date at least a month or a month and a half away. People are busy, and they need time to plan these things. So be sure to give your invited guests enough notice.
Find some Music!
All teens love their music. Consider hiring a DJ. Hiring a DJ is always a way to help your guests to have a good time. Your 16-year-old will always remember the DJ, even when she is 20.
Find the Perfect Cake!
Cakes are a big deal for a sweet 16 party. We all know that parties usually have cake. However, there are so many choices, and you want them to be the best, so what should you pick? What should it look like? How should it be presented? What kind do you want? All these questions and more run through our heads when picking a cake. Here is a list of 12 Sweet 16 cake ideas that might be helpful.
Pastel Blue Diamond Zebra Cake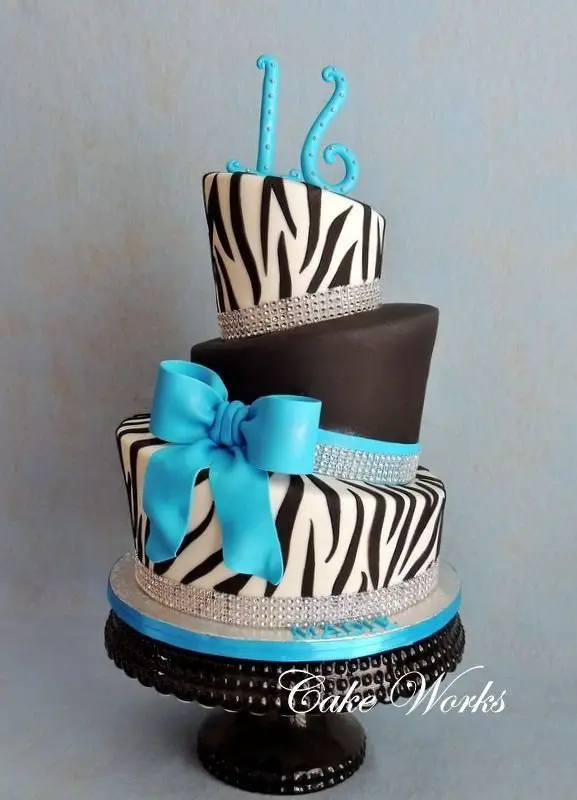 This ever-popular topsy turvy sweet 16 birthday cake with a rhinestone wrap is an excellent choice for any sweet 16 birthday party. The bow and the number 16 are made with gum paste, and its stunning light blue and painted zebra stripes are a unique and fun sweet 16 cake idea.
Ruffled and Pink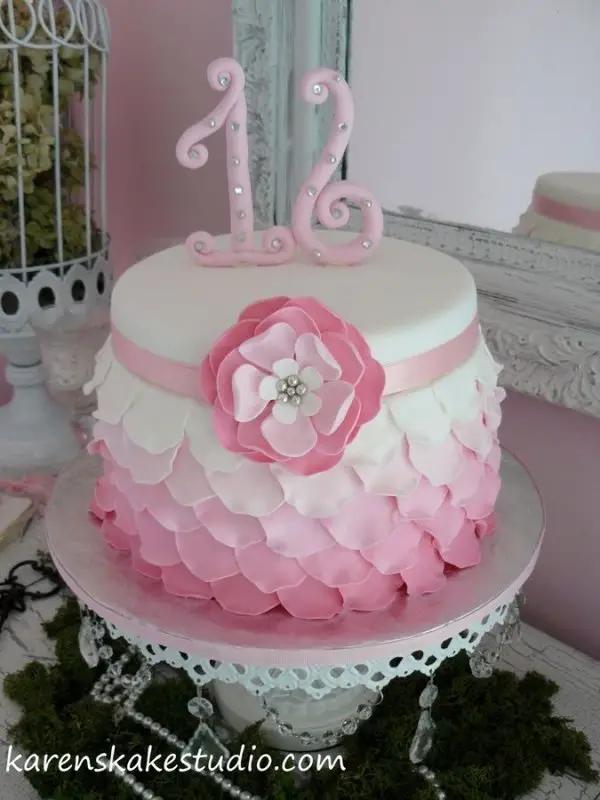 This stunning cake is made with pastel pink ombre ruffles. The lace and Sweet roses add elegance to this Sweet 16 cake idea. Feminine and with a touch of elegance, this cake is beautiful and would be a hit at any Sweet 16 party.
Pink Camo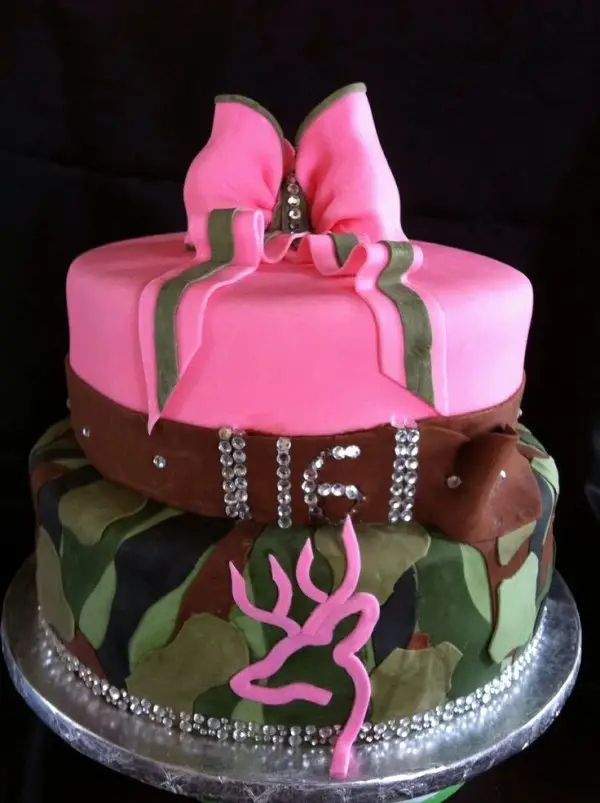 This camouflaged cake is an excellent sweet 16 cake idea for those outdoorsy girls that hang with the boys. The rhinestones add a great touch to this fantastic camouflage-themed cake.
Daisy Pink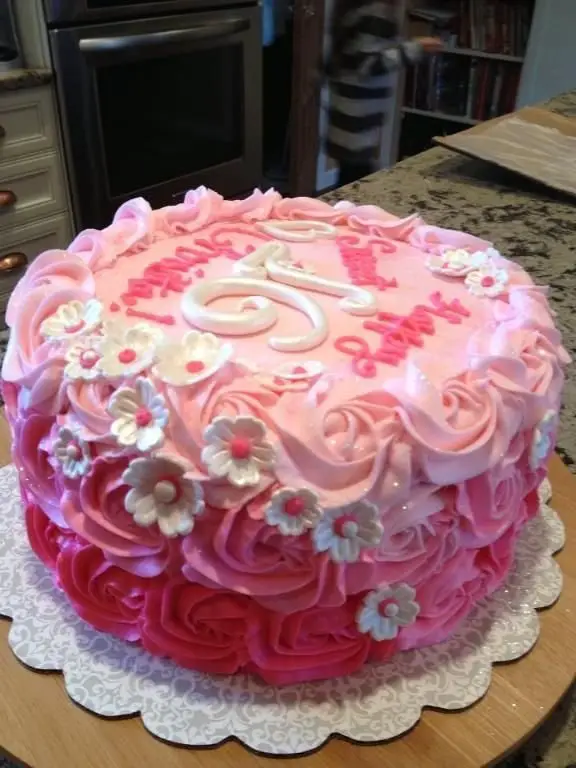 This simple yet sleek and elegant design goes well with any party theme. You can change the icing color to any pastel color you enjoy. Adding the daisies is an extra special touch. This cake is a beautiful work of art and a great Sweet 16 cake idea.
Star-Studded Cake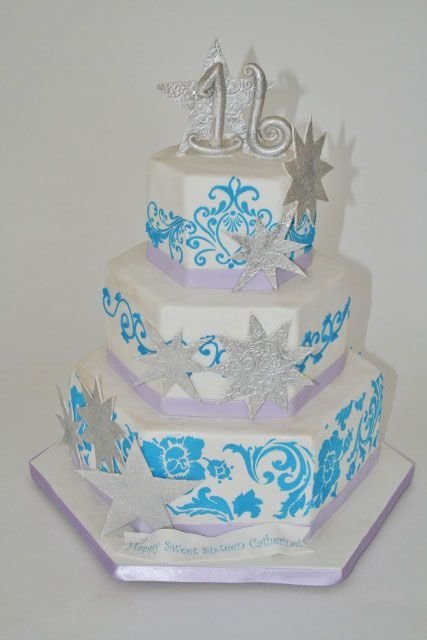 Got a future Hollywood star in your midst? Check out this superstar cake with its unique geometric shape and elegant blue art. This cake would make an excellent choice for your superstar in the making.
Flower Pink Bling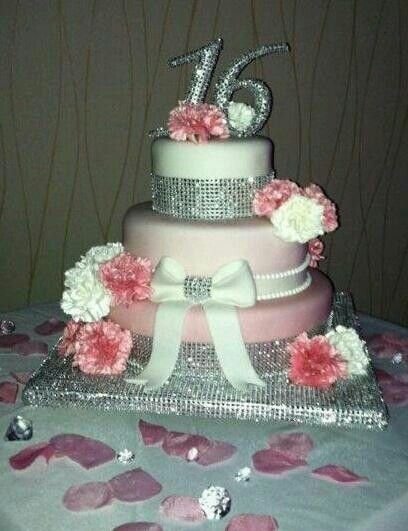 This dazzling pink and white three-tiered cake is an excellent choice. Make the birthday girl feel unique with this beautiful design.
Sky Cake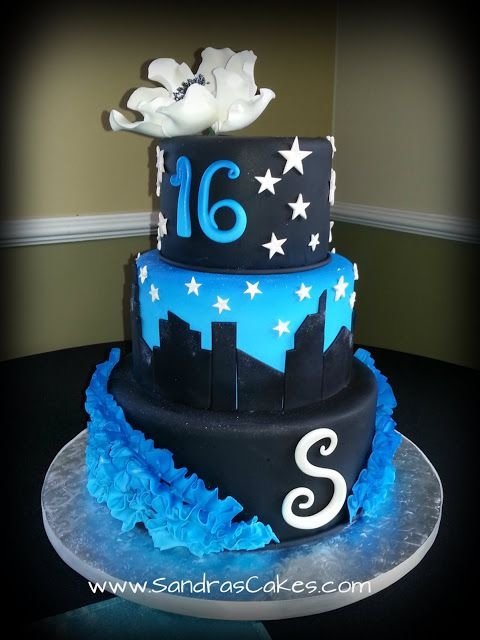 A three-tiered cake with a delicate rose on top. This skyline-themed cake is unique and beautiful.
Cake and Cupcake Tower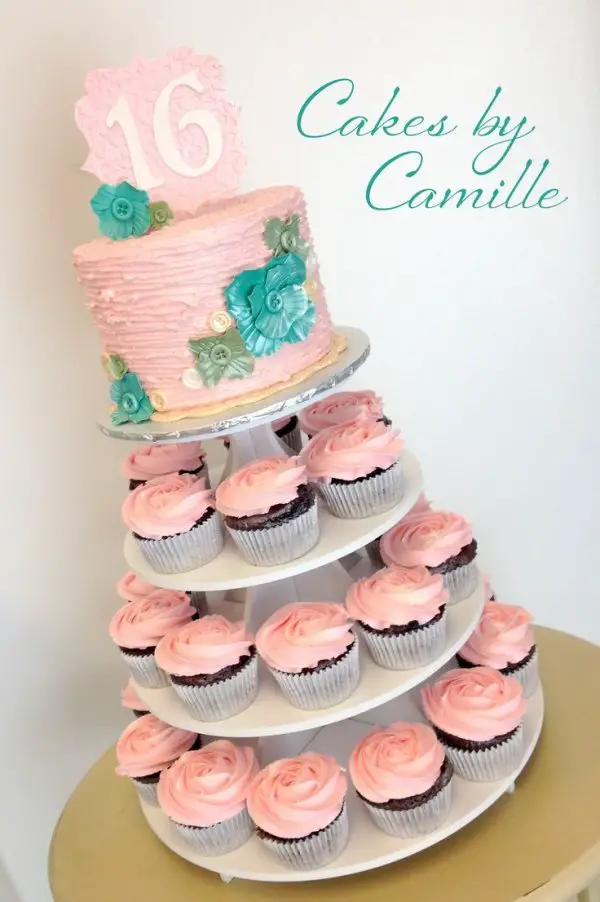 The ever-popular cupcake tower is still a big hit for any occasion. Adding the cake at the top makes this a unique choice as well. The color scheme with pink, white, and blue is gorgeous.
Gift-Topped blue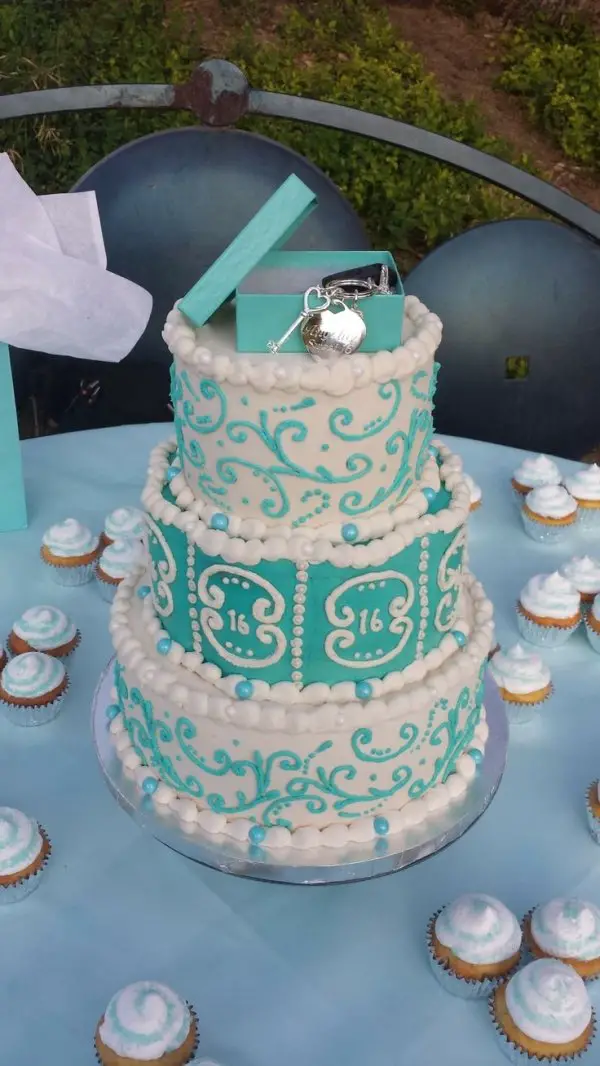 Using Tiffany blue and white. This stunning cake is gorgeous. The gift on the top is my favorite part. It adds a great bonus to this elegant Sweet 16 birthday cake idea.
Gold and Pink Star Cake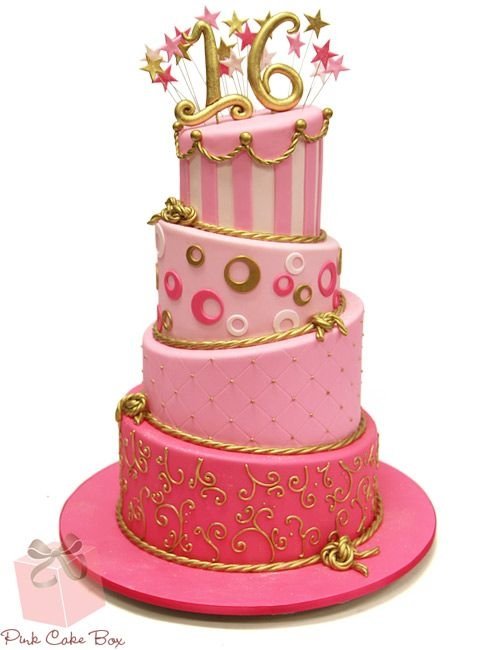 This topsy-turvy-shaped exquisite has four layers of goodness and beautiful pink icing. This cake is one of the best Ideas for a Sweet 16 cake. The addition of the gold accents is a nice touch.
Simple Pink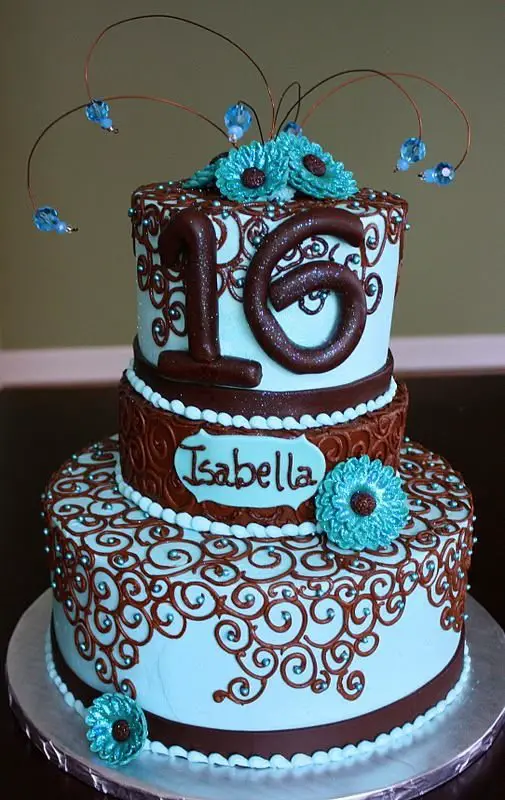 The Flowers are always a great touch and work well with the light blue icing. This color scheme is perfect. The flowing beads and wire off the top of the cake also make this a unique choice.
Diamond Blue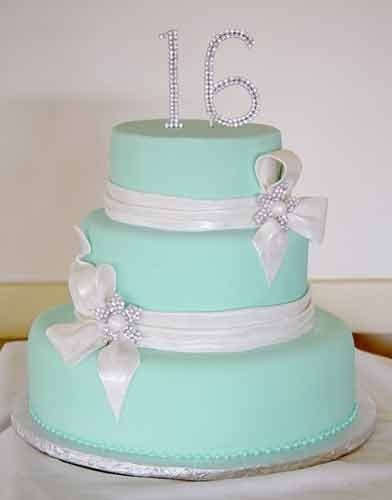 The studded diamond wrap with a pastel blue is so elegant and beautiful for a Sweet 16 cake Idea. My favorite part is the diamond-encrusted number 16 on the top and pearl diamond bows on the side. It is just an excellent choice for a Sweet 16 party choice.
No matter the choices. Your up-and-coming 16-year-old will never forget this day, so make it memorable. Allow the day to help her shine and get excited about her next chapter of life. This day is essential to them, and we must help ensure she feels vital.