25 Cute Sweet 16 Ideas for Cake Toppers
It's that time! 15 full revolutions around the sun, and you're encroaching on your 16th! That's right, you're soon to be 16. You can drive, you can work, and you have a level of freedom you did have a whole year back.
So how do you want to celebrate it? With a party, of course, but what about the cake? After all, if it's going to be a special day, you might as well snag a unique cake topper to celebrate it. There are a huge variety of toppers that you can choose from, so I've narrowed down my favorite 25 Sweet 16 cake toppers for you to peruse. Whatever you choose, just remember to have a happy birthday! You can also check our cake ideas over here.
From Amazon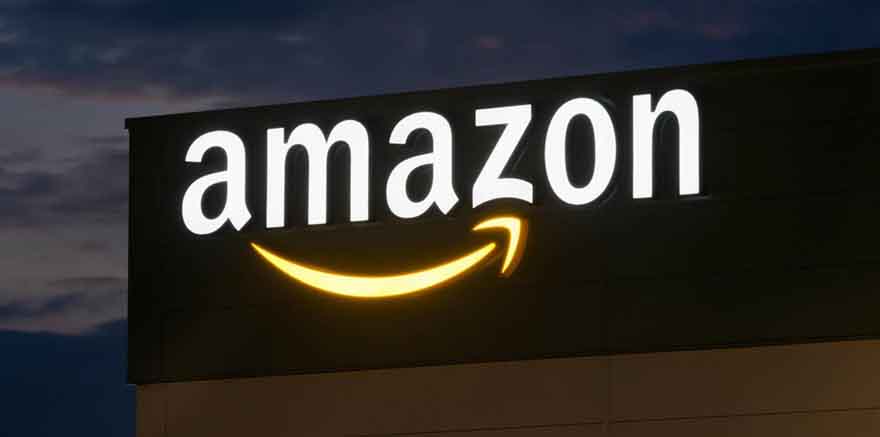 Gold Rhinestone Cake Toppers, 20 Pcs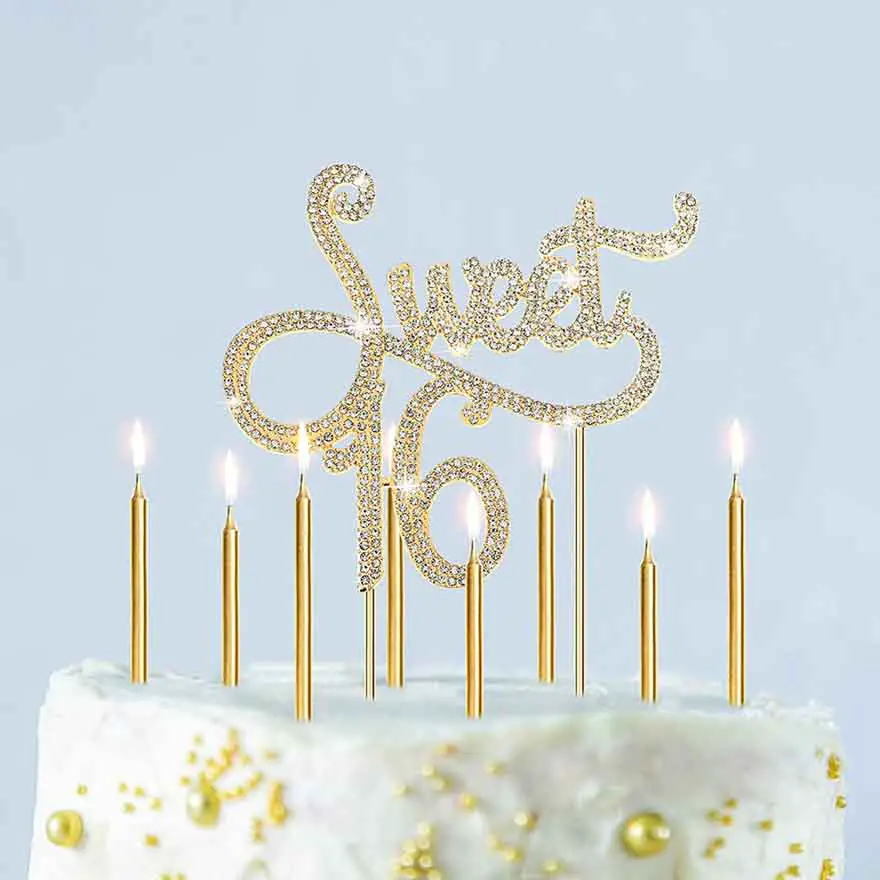 This little delight comes with the topper itself and some candles to go with it, because what cake comes without candles. It's cute and flashy and perfect for any cake. It also comes in different colors!
16 Rhinestone Topper – Premium Rose Gold
This one is nice and bold for those who just want to say it outright: I'm 16, and this is my day. It's a fantastic piece that stands out quite a bit and goes for a more bold statement rather than curled and cutesy.
YotaWish Rose Gold Sweet 16 Cake Topper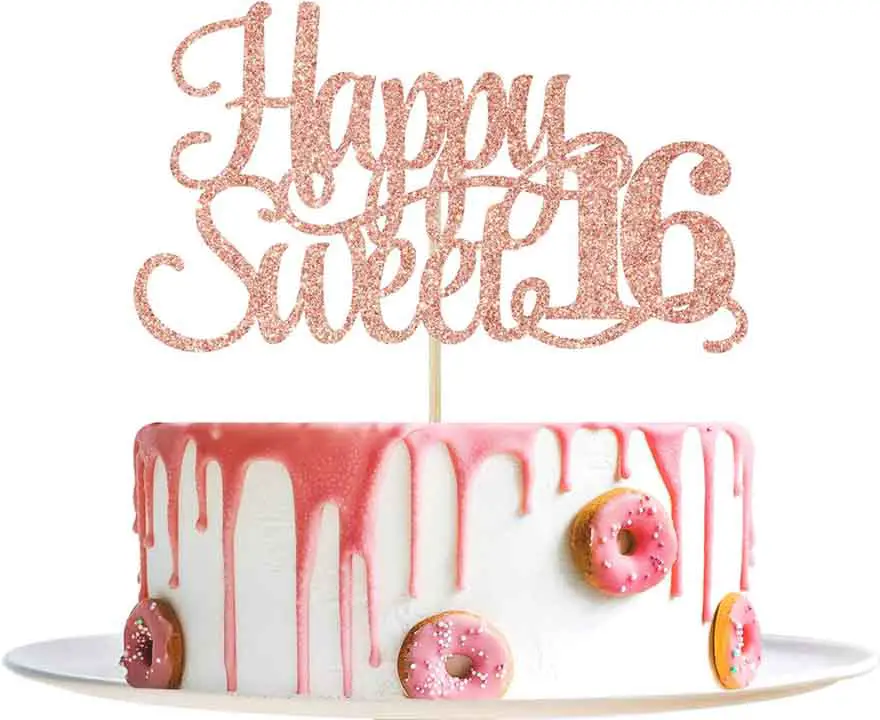 If you're looking for something that's big yet curled and cute, this is what you're looking for. The piece fits nicely on most cakes, and is a standout addition to the rest of the cake decorations. It'll stand above the candles to happily announce it's your birthday.
"Betalala" I'm 16 Btches Cake Topper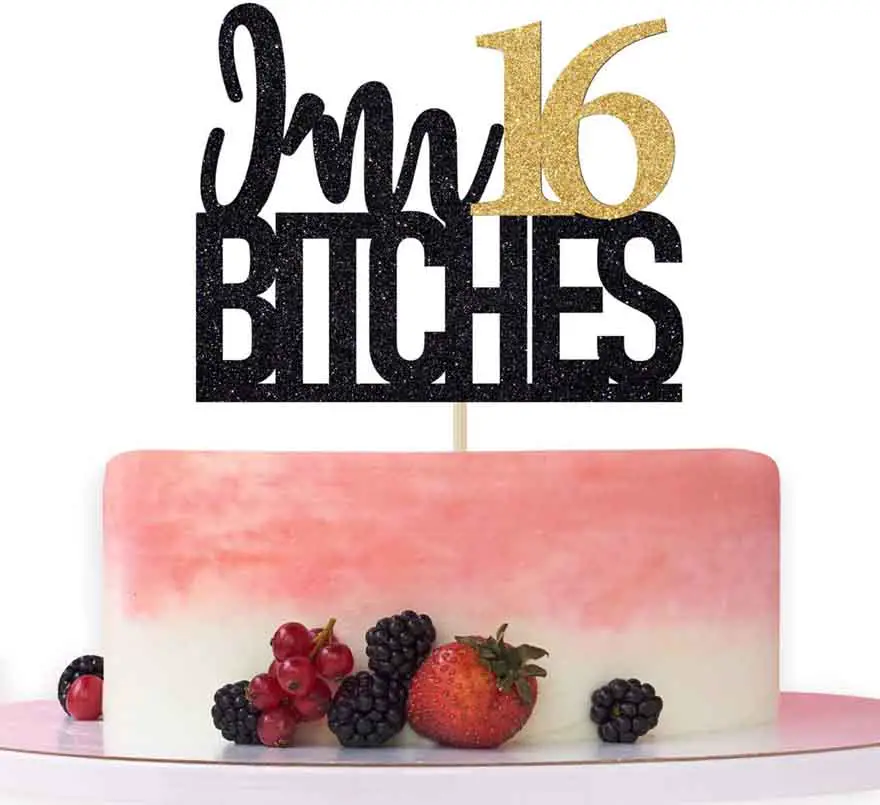 This is if you're feeling bold and want to say it to the world. After all, it's your day. You're finally an adult. You can drive a car and work on your own accord. I'd say you've earned the right to say it loud and say it proud without remorse.
Sweet 16 Moon and Stars Cake Topper
For those of you who like to gaze up at the moon and the stars, this is for you. It's simple, elegant, very cute, and most certainly a memorable piece to have on your cake.
Personalized Happy Sweet 16 Birthday Cake Topper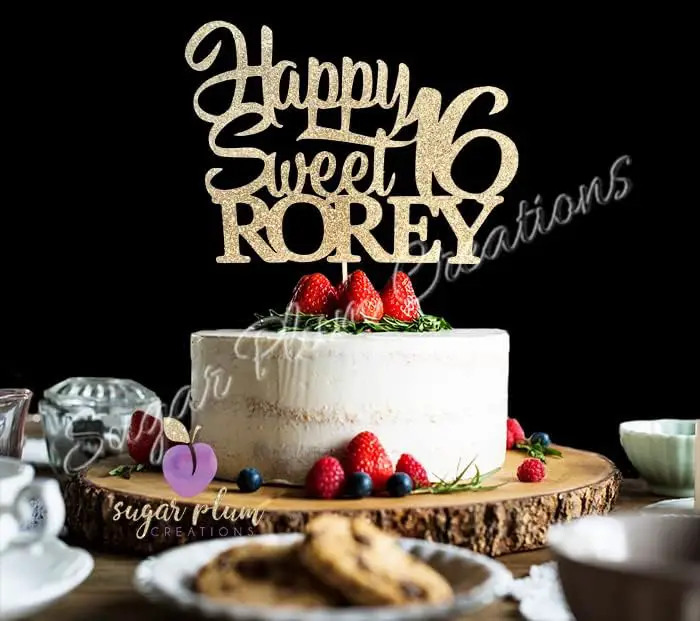 If you're looking for something that's big, bold, and personal, this is what you're looking for. You can change the name to fit yours, so it can proudly state whose day it is when it's finally placed on your cake.
From Etsy
Personalized Black and Pink Topper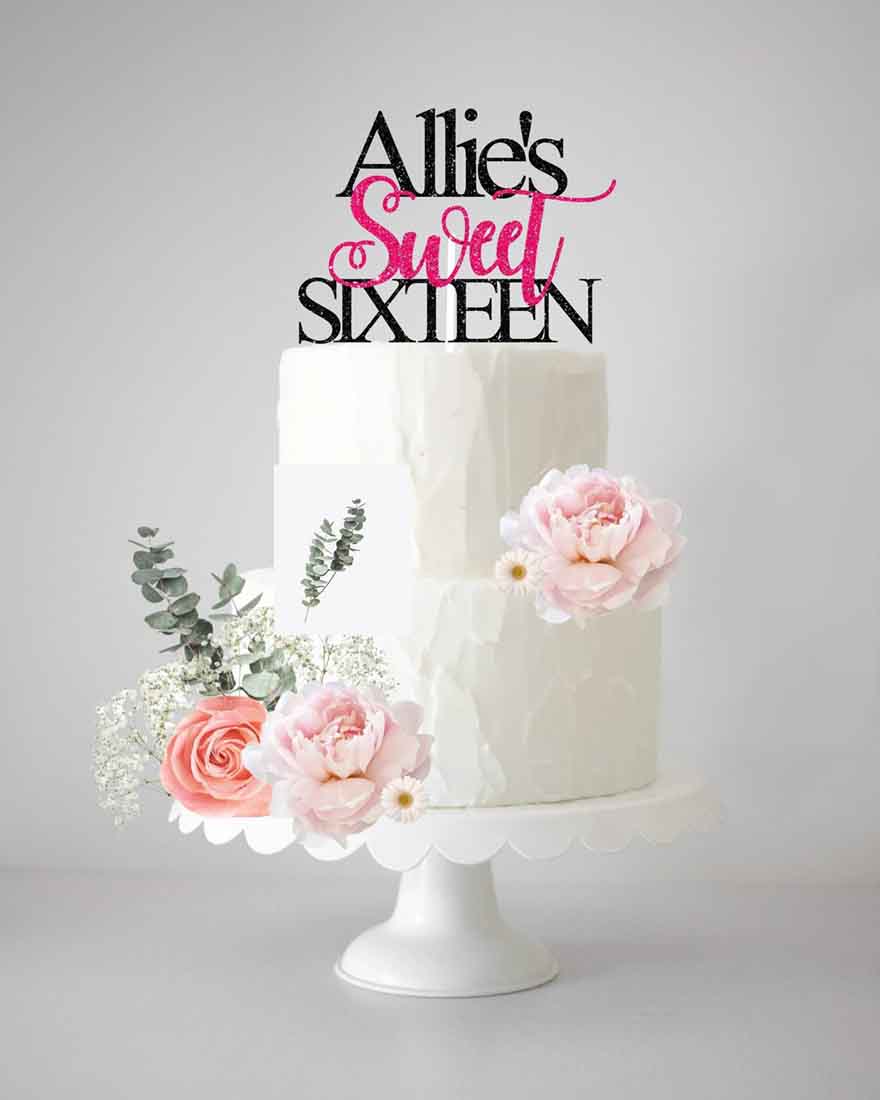 This topper is nice and simple, with the "sweet" emphasized with pink. Which makes sense— it's going to be on a cake, isn't it? And of course, you can personalize the name so that it matches your own. It's sweet to be 16.
Personalized 16 Birthday Announcer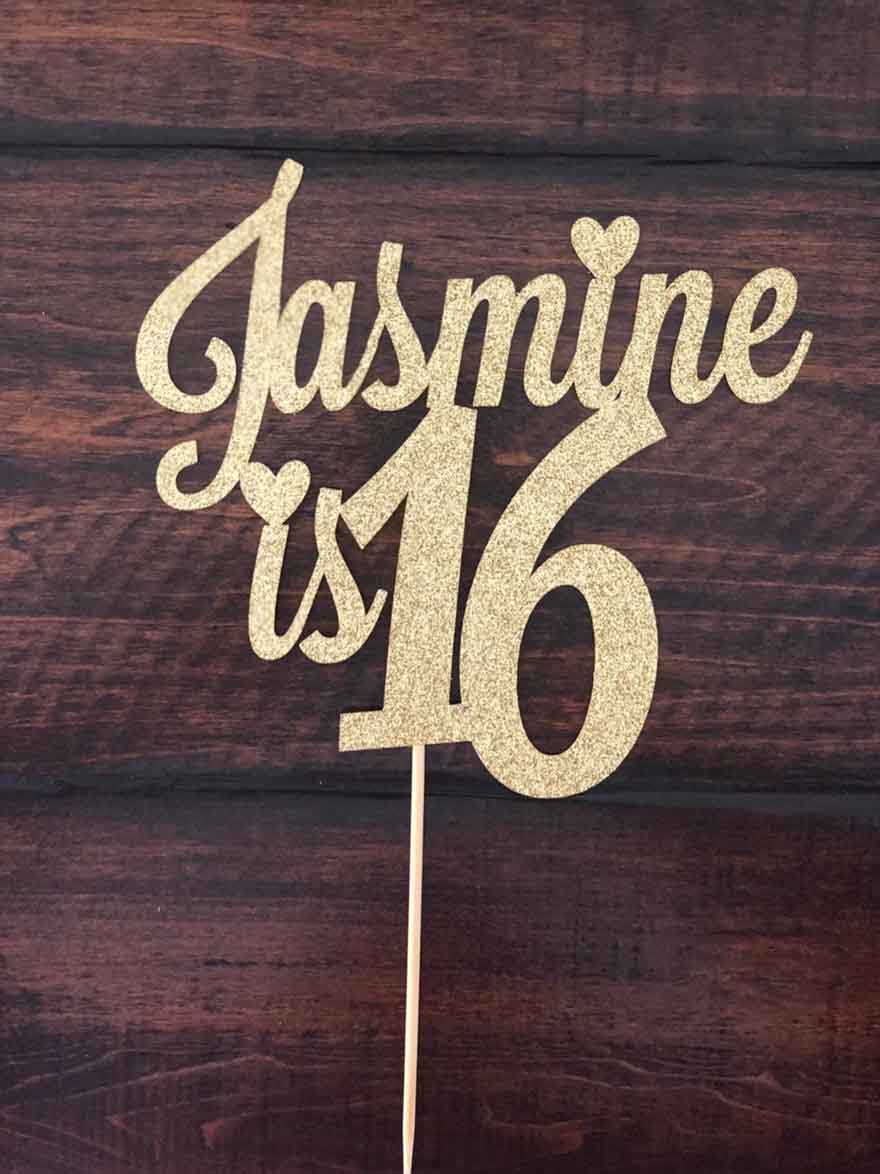 If you're looking to have a Sweet 16, but have a little less of the "sweet", this one is great. It can be personalized to fit your own name and simply says it like it is: you're 16. It's nice, bold, and very cute.
Personalized Butterfly Cake Topper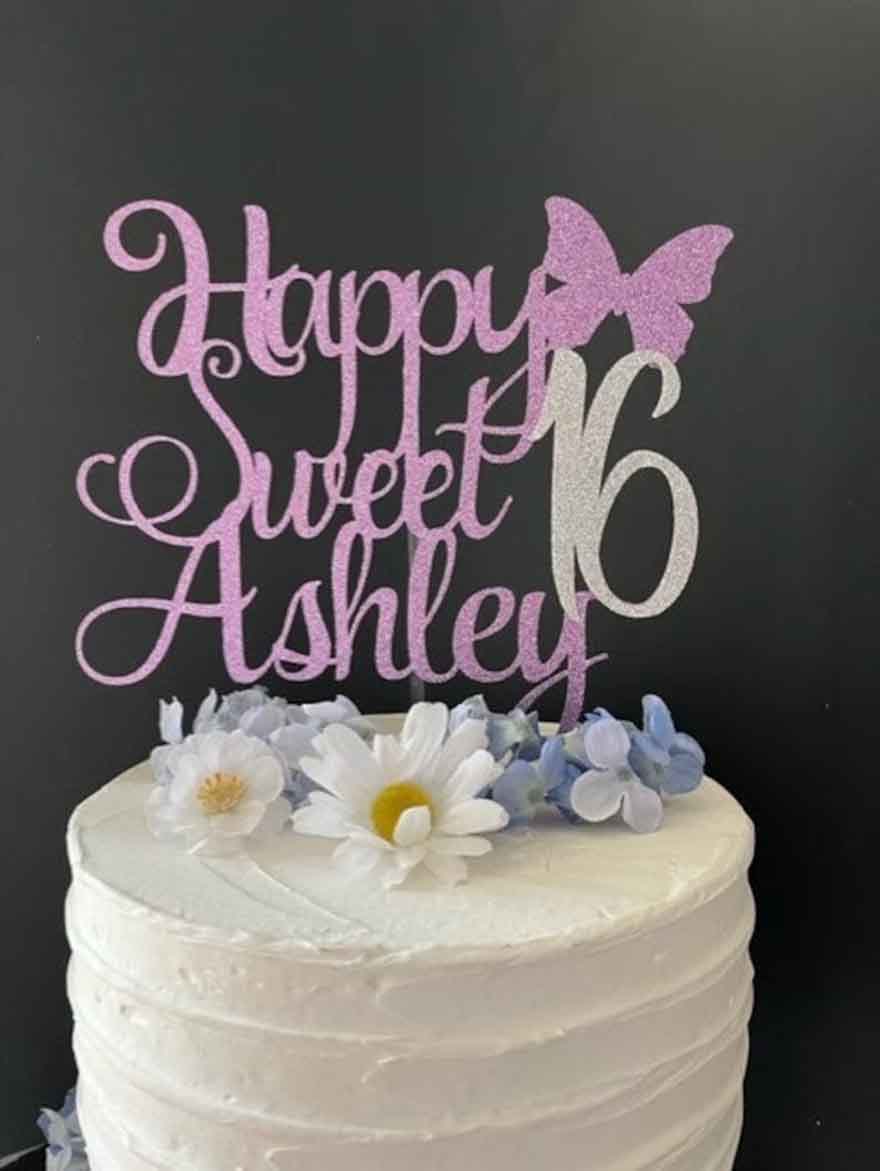 A lot of women have a personal connection with butterflies, and this is for those who greatly admire them. It's cute, very unique, and customizable. Perfect for if you're going for a cutesy/butterfly theme for your birthday.
Personalized Topper with Heart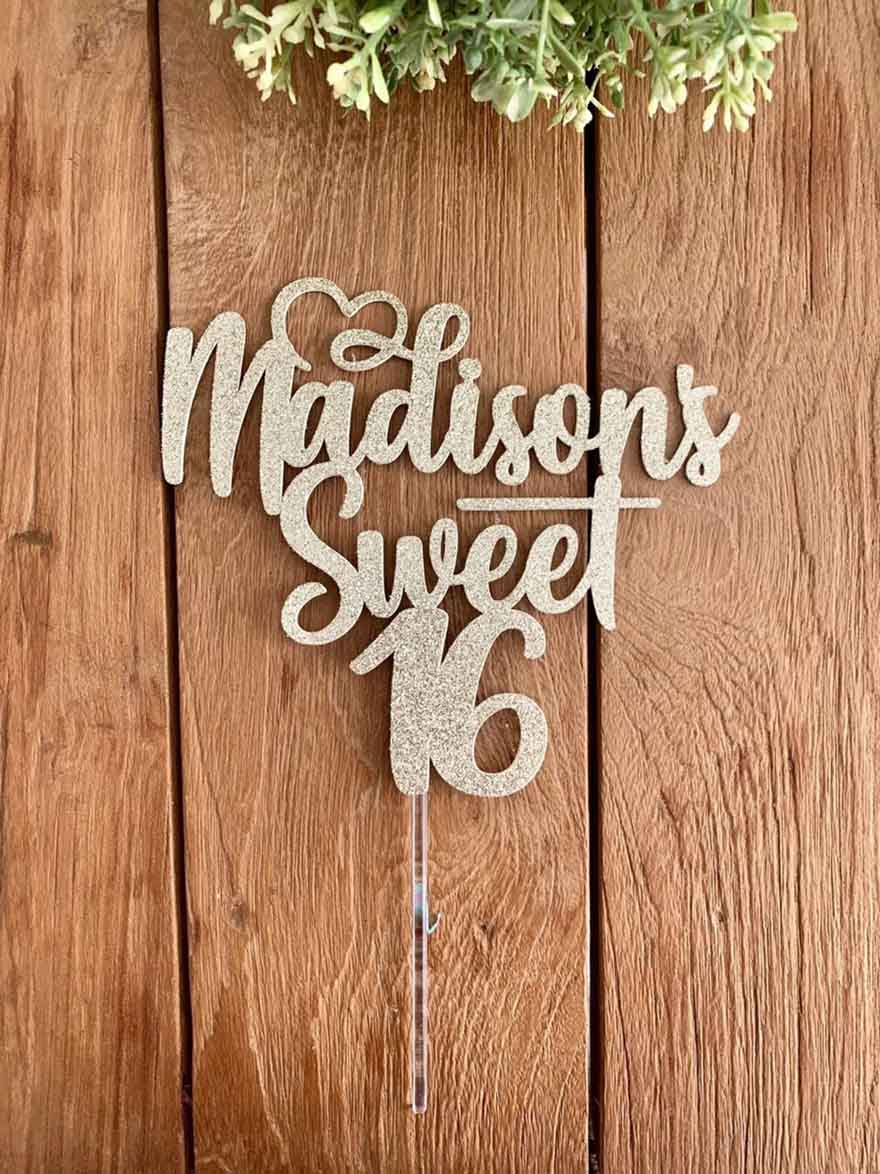 This little piece is cute, elegant, and simple. It has a little heart on top that's subtle, but still very unique and speaks to the specialness of your big day. It's also customizable, so that you can fit your name there and let everyone know it's your day.
Cowgirl Personalized Topper
This is for all those southern girls out there who are proud of where they come from. It definitely brings a rustic vibe to everything and will really make your cake stand out above all the rest. Best of all, you can customize it with your own name!
Personalized Moon and Stars Topper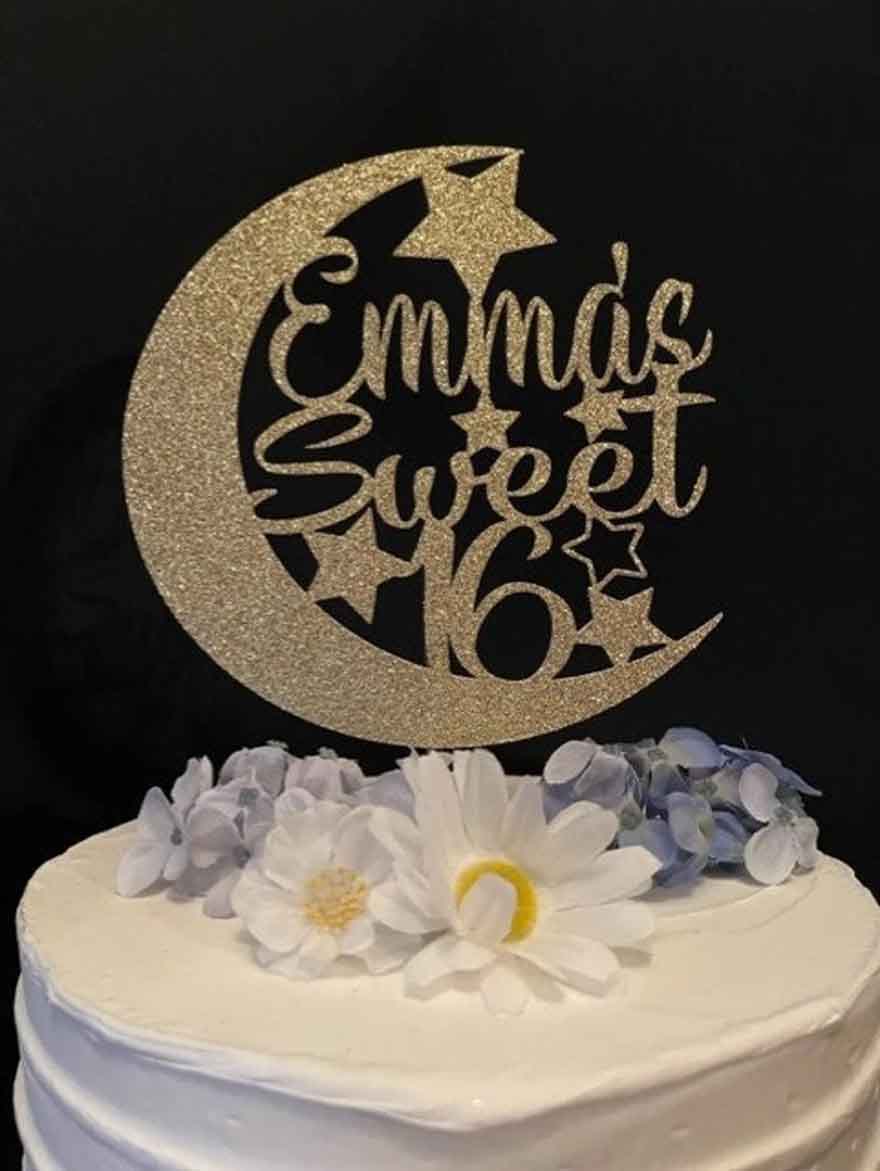 If you're one who likes to stargaze, this is the one for you. It's fitted nicely with your name, which you can personalize, and will stand out on your cake. It's for those who find a connection with the night sky, or just take their Zodiac signs really seriously!
Homely Burlap Topper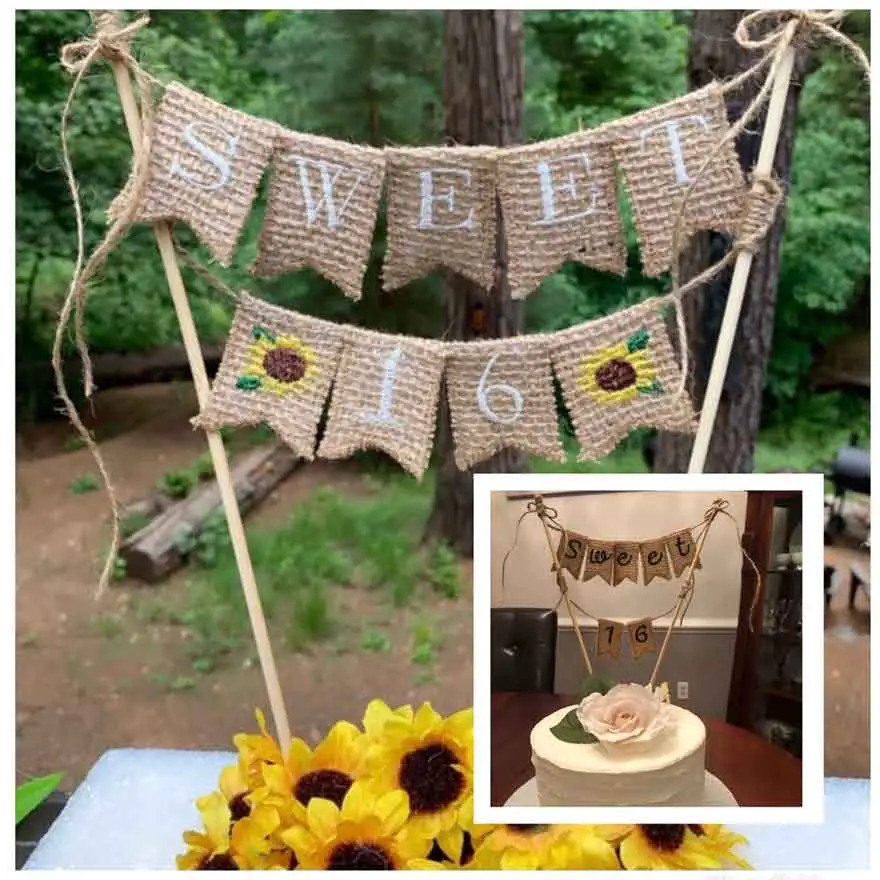 Now as someone who really enjoyed flowers and gardening and the outdoors, I just adore this one. It's handmade, very memorable, and acts as a little banner to celebrate your birthday! It's perfect for outdoor parties when you want to soak in the sunshine, or if you have a particular fondness for gardening and the like.
From Ebay
Pink Cutesy Cake Decor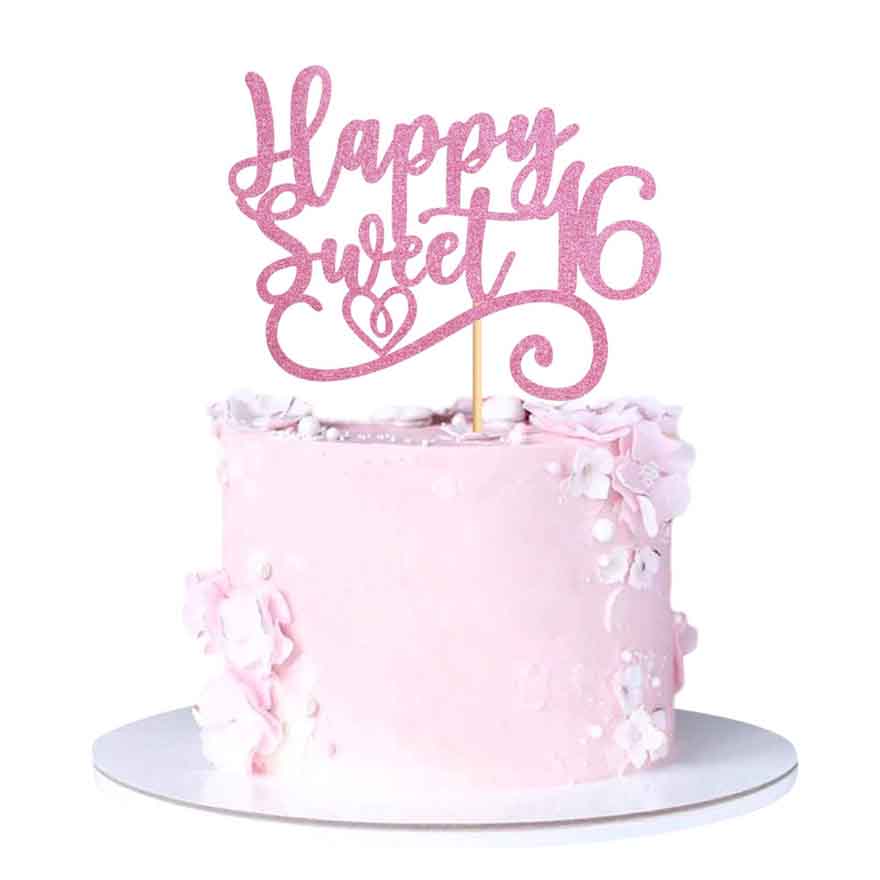 Now we're getting back to the basics: a nice pink topper that's both simple but very pleasing to the eye. It's memorable and will absolutely stand out on any cake it's placed on. It's especially great if you've decided to go all pink on your big day.
Personalized Bold Topper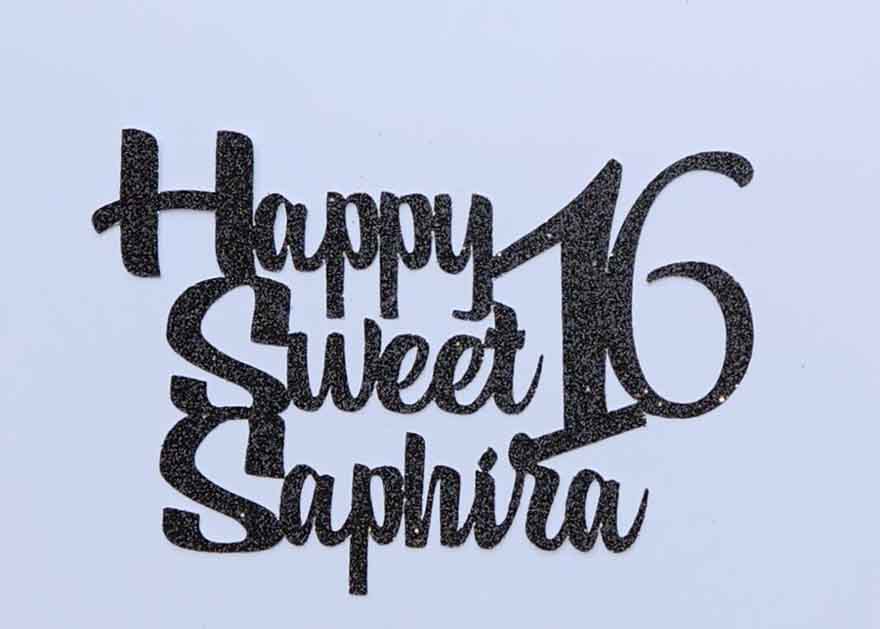 I really like this one because of its calligraphy. It's bold, like someone wrote it down with a marker as a loving little note. It should also be appreciated for the simple fact that it's customizable.
25 Piece Rose Gold Cake and Cupcake Toppers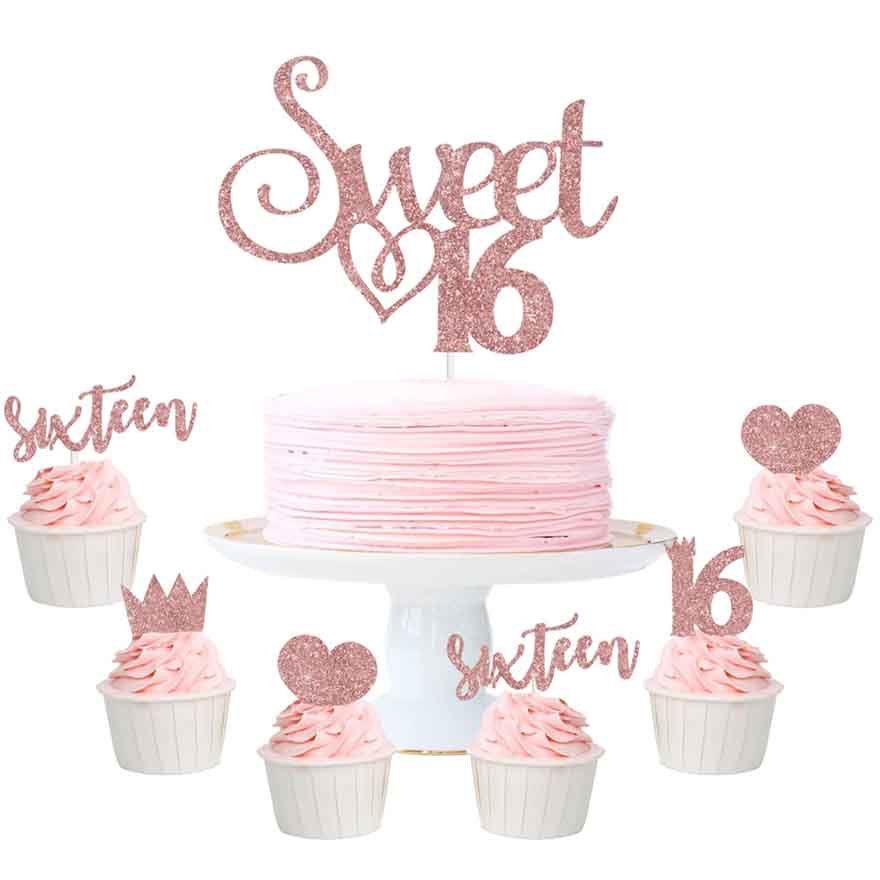 This one stands above the rest, in my opinion, for the simple fact that it comes with cupcake toppers as well. That way, you have matching cakes and cupcakes without having to scour stores or the internet for toppers for the two that look similar.
Silver Sweet 16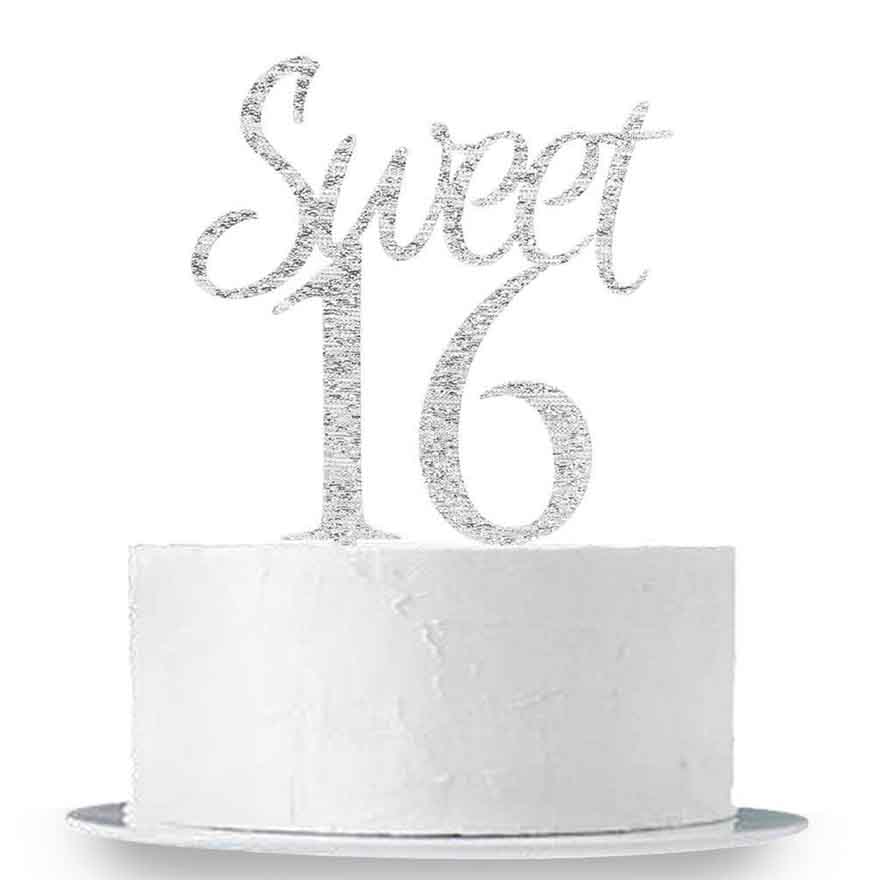 I like this one because of its size and its simplicity. It's a nice bold style that's easy on the eyes and very memorable at just a first glance. The quintessential Sweet 16 topper in my opinion.
Crowned Silver Topper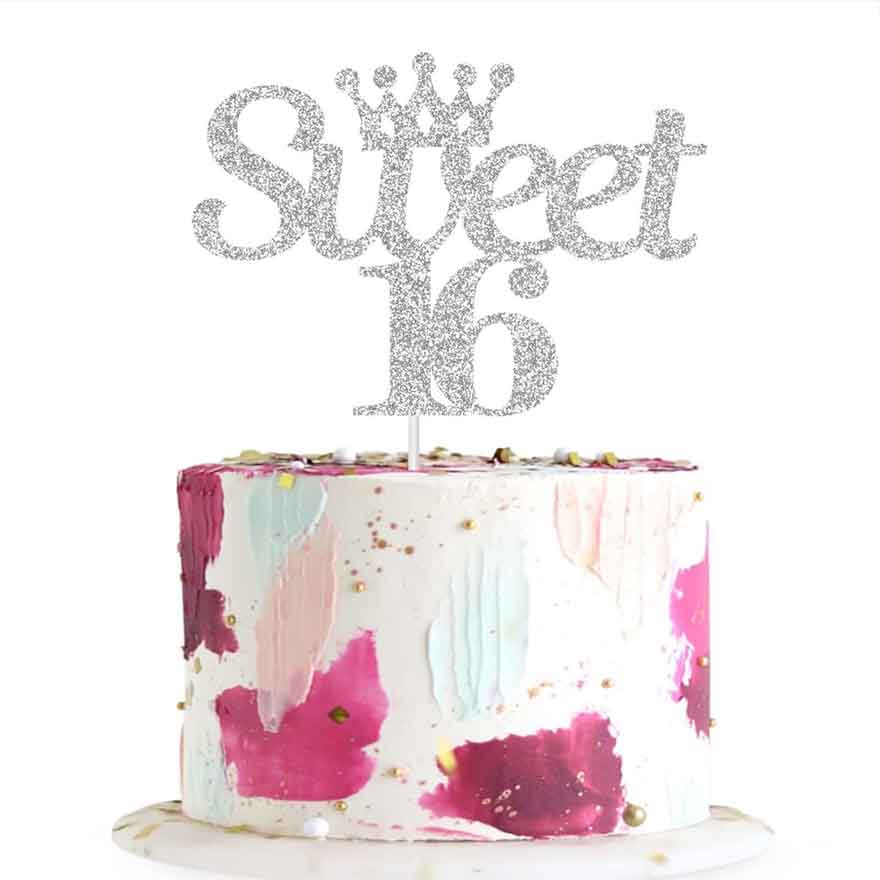 If you've decided to go with a royalty theme for your 16th birthday, this might just be the one for you. It has a little crown atop it for those who like to be the princess on their big day. It's bold, cute, and lovely.
Edible Personalized License Plate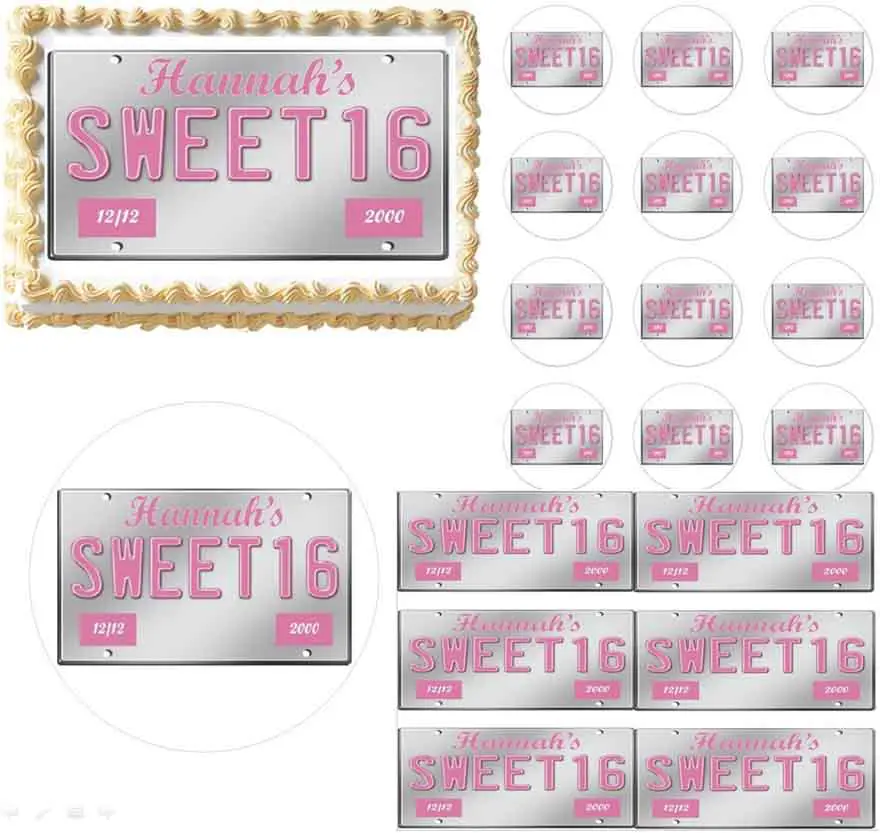 Now this one is just straight up unique and I love it. After all, now that you're 16, you're able to drive. What better way to celebrate it than with this? Plus, not only is it personalized, but you also get to eat it!
From Wedding Collectibles
Personalized Large Black Print Topper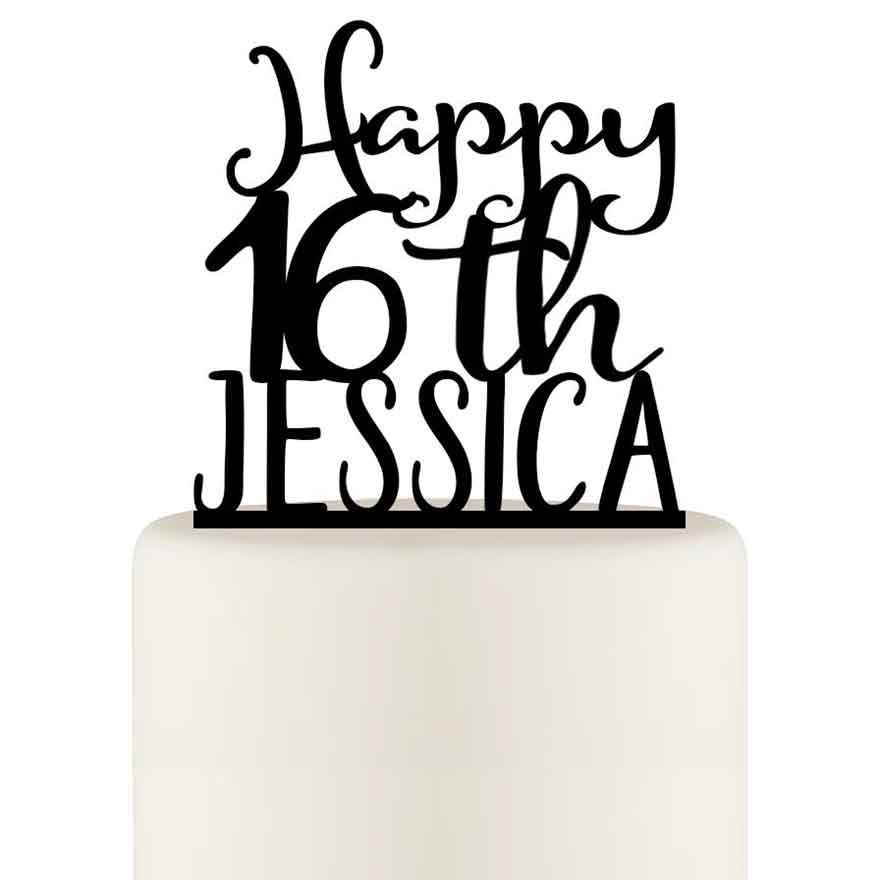 This is just plain lovely. I adore the boldness of the design and the different usages of fonts. It's also personalized, so you can let everyone know whose big day it is.
Clear Acrylic Topper
This gorgeous and elegant piece is perfect for any young woman who wants to make their Sweet 16 a bit more fanciful. I adore its design, and it will make your cake stand out above the rest!
Clear Acrylic License Plate Decor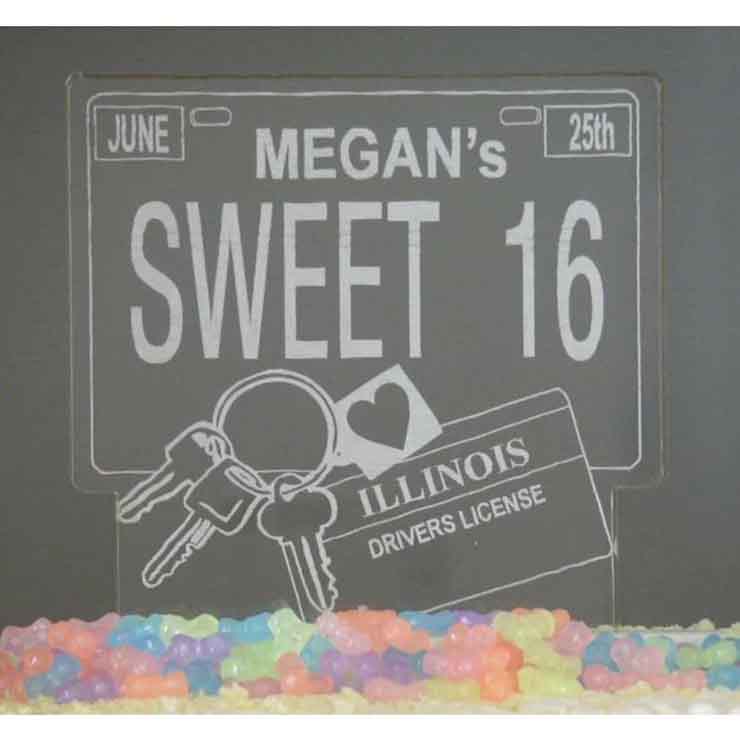 You're 16, which means you're finally old enough to get behind the wheel and take it for a spin. Why not celebrate that fact with this unique little design? It's definitely a unique piece and one that celebrates your newfound freedom.
Young Girl Porcelain Figurine
This is for those who like to be sentimental. After all, you're leaving your childhood behind you. You're becoming an adult. This celebrates what you'll be leaving behind, but also is a reminder that you'll always be the little girl your family took care of.
Clear Acrylic Topper with Violin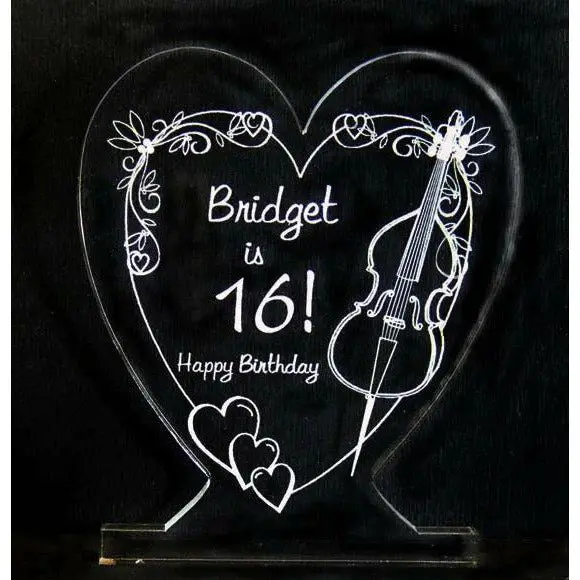 This is for all the music lovers out there, or anyone who finds themselves proficient with an instrument. It's an elegant and lovely little design that I think fits amazingly on any cake.
Large Porcelain Monogram Topper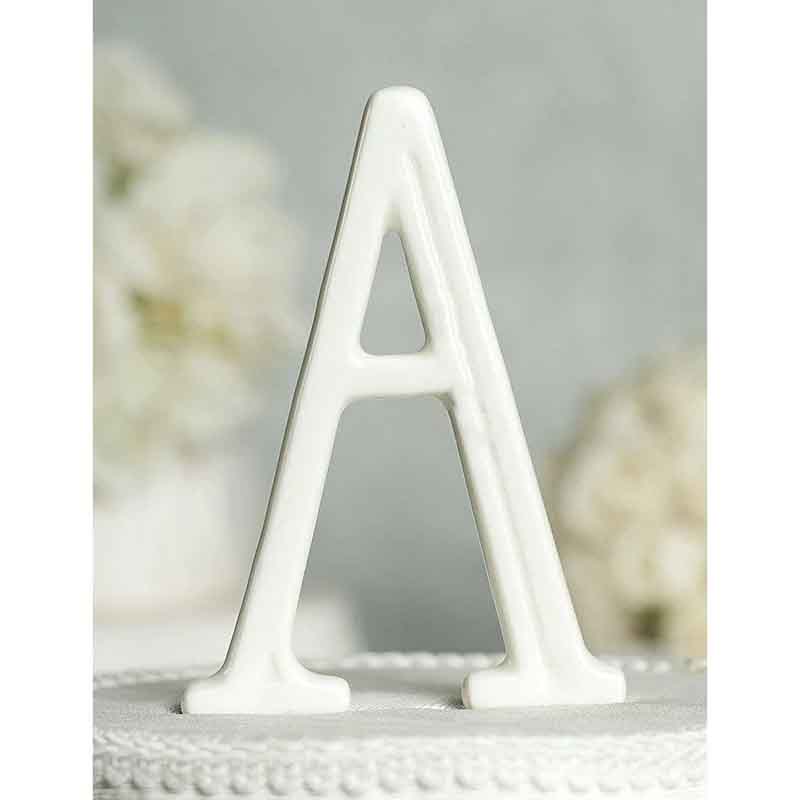 This one is simple, but says a lot at the same time. It's made of porcelain and can be customized to fit the first letter of your name to really celebrate you above all else. Not to mention, it can be washed afterwards and kept.